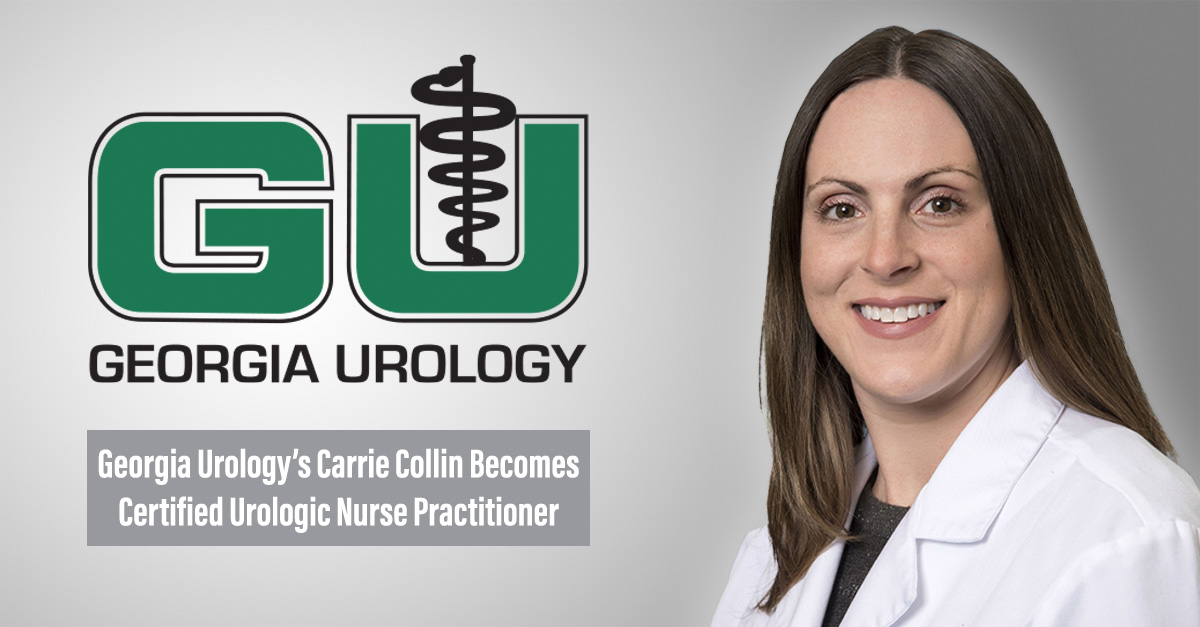 Georgia Urology's Carrie Collin Becomes Certified Urologic Nurse Practitioner
Professional Designation Helps Patients Confidently Choose Specialty Care
Carrie Collin of Georgia Urology –the largest urology practice in the Southeast– recently received her designation as a Certified Urologic Nurse Practitioner. Patients can confidently choose Georgia Urology knowing providers such as Collin strive for excellence in their field.
"We're proud of Carrie for achieving this certification," says Georgia Urology's Chief Executive Officer Dan Fellner. "It demonstrates her commitment to providing the best care to Georgia Urology's patients and should give patients even more confidence in the care that Carrie and the Georgia Urology team provide."
Collin began working in urology in 2010, and she originally became a Certified Urologic Registered Nurse in 2011. She decided to return to school and received her nurse practitioner degree in 2017. It was then she decided to get a similar designation in her new role.
She has been an active member of the Society of Urologic Nurses and Associates (SUNA) since 2010, has been a speaker at its national conference, and was honored with the Vance Caselman Memorial Lectureship in 2014. Collin also published an article in the SUNA journal from her presentation. In 2015, she received the Nightingale Award for Excellence in Nursing.
To become a Certified Urologic Nurse Practitioner, the applicant is required to meet a list of specific criteria. This includes completing a nationally-accredited nursing educational program and working two years as a nurse practitioner with additional practice hours. They must have current recognition by the state board of nursing as a nurse practitioner and hold current certification as a nurse practitioner from a national certifying board. Additionally, the applicant is required to have a master's degree in nursing or doctorate of nursing practice.
Collin collaborates with Dr. Warren Todd Oberle at Georgia Urology's Marietta and Austell offices. She works with a wide range of patients facing challenges such as urologic cancers, kidney stones, prostate issues, voiding and bladder dysfunctions, and more.
"I'm extremely happy, and it's a personal achievement to grow my career to where I am currently," Collin says. "Sharing my continued education with Georgia Urology patients is a true privilege, and I'm honored to have that opportunity."
To make an appointment with a Georgia Urology physician, schedule online or call one of our office locations.
Georgia Urology is the largest urology practice in Atlanta and throughout the Southeast. Georgia Urology has more than 30 locations and seven ambulatory surgery centers. The practice is comprised of more than 60 providers, and many of its physicians are fellowship-trained and hold advanced specialty training in oncology, robotic surgery, laparoscopy, infertility, incontinence, and pediatrics. Georgia Urology physicians use state-of-the-art diagnostic equipment and advanced treatment techniques, including robot-assisted technology and minimally invasive procedures, in order to manage all urological problems in men, women, and children. It is the practice's mission to inform and partner with patients to develop a personalized, compassionate, and comprehensive treatment plan for all of their urological conditions.
https://www.gaurology.com/wp-content/uploads/carrie-collin-certified-urologic-np.jpg
627
1200
Lizzi Skipper
https://www.gaurology.com/wp-content/uploads/georgia-urology-logo.png
Lizzi Skipper
2021-07-02 12:15:36
2021-12-28 15:01:12
Georgia Urology's Carrie Collin Becomes Certified Urologic Nurse Practitioner