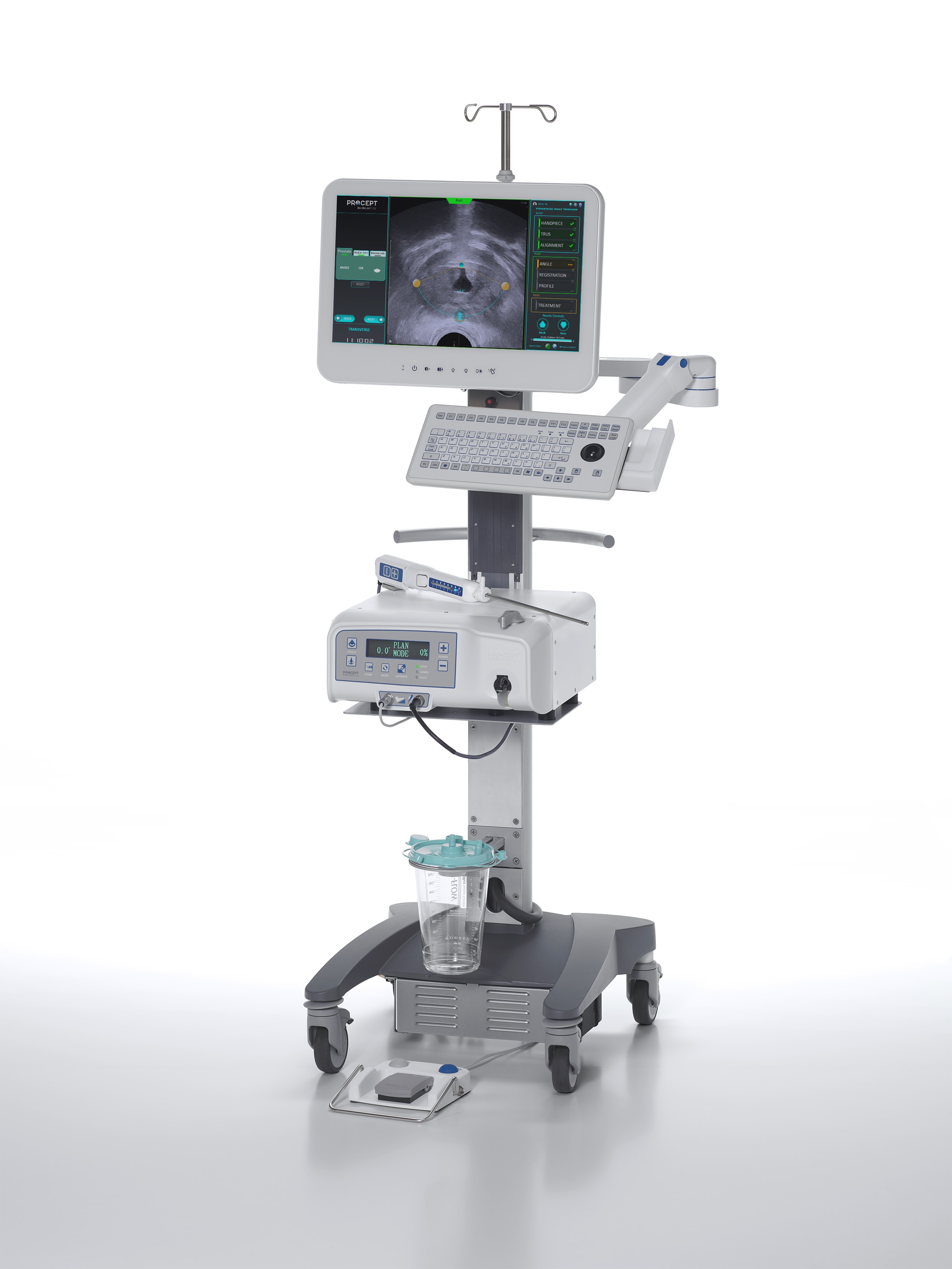 Aquablation therapy is a unique, next-generation BPH treatment that is changing the tradeoff between symptom relief and side effects. Patients can get significant symptom relief with less risk of side effects that impact their quality of life compared to the surgical gold-standard TURP.
How does it work?
This minimally invasive approach combines real-time imaging, robotics, and heat-free waterjet ablation to precisely and efficiently remove the prostate tissue enlargement without the risk of side effects or complications caused by heat-based treatments. Robotic precision Aquablation therapy is delivered by the AQUABEAM® System, the world's first autonomous tissue removal robot for the treatment of BPH.
Who is an appropriate candidate for Aquablation therapy?
Aquablation therapy has been proven a safe and effective treatment for BPH patients suffering from urinary symptoms. Aquablation therapy is contraindicated for patients diagnosed with or suspected to have cancer of the prostate. You should consult with your urologist to review all the options for your condition.
What happens during Aquablation treatment?
Aquablation therapy is performed in the operating room, either under spinal or general anesthesia. During the procedure, your surgeon will use multi-dimensional imaging to identify the exact treatment plan based on your specific anatomy. Next, the AQUABEAM System robot autonomously executes that treatment plan, removing the excess prostate tissue with a heat-free waterjet. The procedure takes less than an hour and usually leads to an overnight stay in the hospital.
What happens after Aquablation therapy?
You may go home with a urinary catheter, and for a few days, you may experience a slight burning during urination as well as rectal soreness. This can be managed with mild pain medication. You can resume your normal activities at the discretion of your surgeon or urologist.
What are the possible side effects?
Most side effects typically resolve within two to four weeks after the procedure. The most common side effects are mild and transient and may include mild pain or difficulty when urinating, discomfort in the pelvis, blood in the urine, inability to empty the bladder and bladder or urinary tract infection.
For more information about potential side effects, contact your closest Georgia Urology physician.