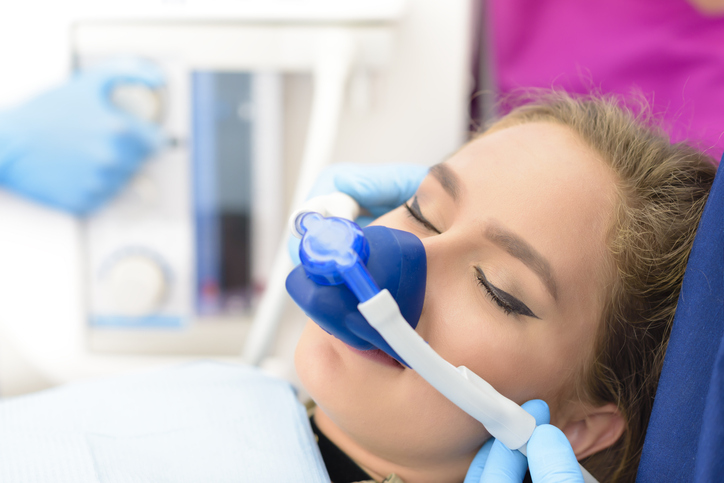 Dr. Sharpe Presents the Benefits of the Pro-Nox Nitrous Delivery System
Many urology patients require office-based procedures that have significant anxiety and pain associated with them, due to the anatomical location of the procedure. Georgia Urology's Dr. Brent A. Sharpe has identified the Pro-Nox Nitrous Oxide Delivery System as a potential solution for improving the in-office experience for not only urologic patients but for other surgical specialties.
At Georgia Urology, Dr. Sharpe treats all urological conditions but has a special interest in minimally invasive surgery such as prostate enlargement (BPH), urological cancers, erectile dysfunction, and vaginal prolapse.
This spring, Dr. Sharpe shared his considerable expertise in Pro-Nox with fellow urologists via virtual presentations.
CAREstream America "How Pro-Nox is Changing Urology" Webinar
Dr. Sharpe hosted a webinar on Thursday, April 30, on "How Pro-Nox is Changing Urology" with CAREstream America, for urologists and other surgeon specialists.
During the webinar, Dr. Sharpe addressed the Pro-Nox Nitrous Oxide Delivery System, the reasons and benefits for implementing the system into patient procedures, concerns doctors may have about its performance, and the results from a study that he conducted to prove its efficiency and success.
With the assistance of Cash Sterling, a resident physician at North Georgia Medical Center (NGMC), Dr. Sharpe collected data on patient satisfaction using 50/50 Nitrous Oxide during office-based urological procedures.
Along with relieving potential discomfort and anxiety, the Pro-Nox system allows for a faster recovery period and is a non-addictive option.
The current uses of the Pro-Nox system in urology include:
Vasectomy
Urolift (without prostate block)
Cystoscopy with and without dilation
Prostate biopsy
Small transurethral resection of bladder tumor (TURBT) and bladder biopsy
Bladder/Prostate fulguration
Excision of skin lesion
Southeastern Section of the American Uroligical Inc. (SESAUA) Poster
In April, Georgia Urology's Dr. Sharpe would have presented at the Southeastern Section of the American Urological Inc. (SESAUA), on "Nitrous Oxide Offers Superior Patient Satisfaction During Office-Based Urological Procedure", for all urologists attending the meeting.
For more information on Nitrous Oxide (NO) and Dr. Sharpe's study, view the poster that would have been presented at the SESAUA meeting, below.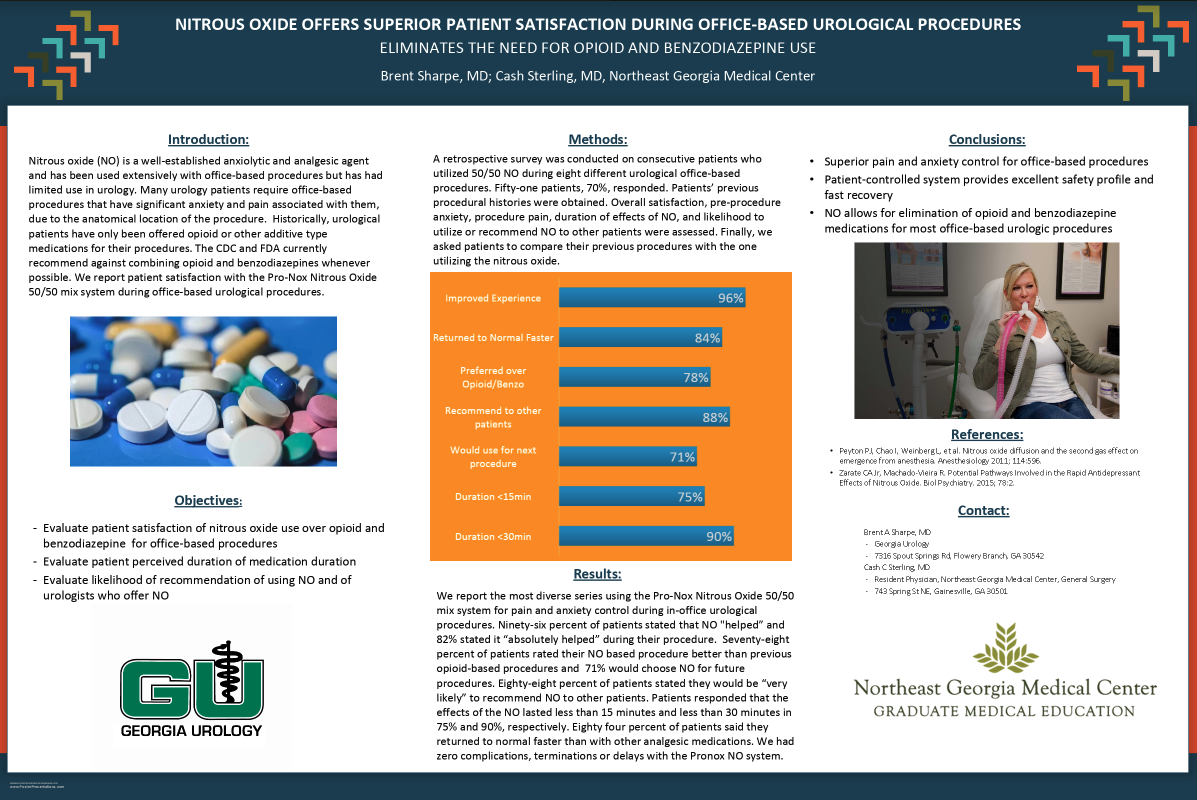 https://www.gaurology.com/wp-content/uploads/iStock-638688220.jpg
483
724
Annice Wyatt
https://www.gaurology.com/wp-content/uploads/georgia-urology-logo.png
Annice Wyatt
2020-05-01 09:50:13
2020-12-10 14:12:20
Dr. Sharpe Presents the Benefits of the Pro-Nox Nitrous Delivery System