Brent A. Sharpe, M.D.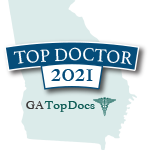 Upcoming Webinar
Symptoms and Treatment Options for Enlarged Prostate
Brent Sharpe, M.D.
Date: Tuesday, September 21, 2021
Time: 5:30 PM Eastern Time
Are you experiencing symptoms of an enlarged prostate/benign prostatic hyperplasia (BPH)? You're not alone. BPH affects about 50% of men by the age of 60 and up to 90% of men by the age of 80.
Effective treatment options, including minimally invasive water vapor therapy, are available. Learn about the symptoms and treatment options for BPH from Georgia Urology's Dr. Brent Sharpe.
Dr. Sharpe received his bachelor's degree from the University of North Carolina at Charlotte and his Medical Degree from East Carolina University School of Medicine. He completed his residency in Urology at Emory University in 2005 after a surgical internship at Texas Tech Health Science Center. He is board certified by the American Board of Urology.
Dr. Sharpe treats all urological conditions but has a special interest in minimally invasive surgery for a wide range of urological conditions such as prostate enlargement (BPH), urological cancers, erectile dysfunction, and vaginal prolapse. He has completed approximately 700 minimally invasive surgeries, making him one of Georgia's most experienced and extensive minimally invasive urological surgeon.
Additionally, he has special expertise in Prosthetic Urology which allows men to have a complete restoration of normal function after prostate cancer treatment. Currently, Dr. Sharpe is the area's only urologist offering robotic partial nephrectomy, robotic pelvic prolapse surgery, and is Georgia's first and only surgeon to offer Outpatient Robotic Prostatectomy for prostate cancer. He utilizes specific genetic testing to tailor his prostate cancer treatment plans. Dr. Sharpe is also one of the first surgeons to use biological grafts to enhance the recovery of potency in prostate cancer patients. He was also instrumental in expanding the minimally invasive treatment options in North Carolina, where he practiced prior to coming to northeast Georgia in 2013.
Dr. Sharpe and his wife, Victoria, have two sons who love to travel and enjoy the great outdoors.