Combined rating across 10+ review sites! Read what patients are saying on:
Reputation Summary
Brent A. Sharpe, M.D.




2023
Castle Connolly
Top Doctor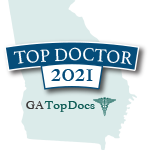 Dr. Sharpe is a native of North Carolina and received his bachelor's degree from the University of North Carolina at Charlotte and his Medical Degree from East Carolina University School of Medicine. He completed his residency in Urology at Emory University in 2005 after a surgical internship at Texas Tech Health Science Center. He is board certified by the American Board of Urology.
Dr. Sharpe has completed over 1,000 robotic procedures for prostate, bladder, and kidney cancer in addition to benign conditions such as enlarged prostate, urinary reconstruction, and pelvic prolapse.
He treats all urological conditions but has a special interest and training in minimally invasive surgery for a wide range of urological conditions, such as prostate enlargement (BPH), urological cancers, erectile dysfunction, and vaginal prolapse. Dr. Sharpe is the only surgeon in Georgia to be recognized as a Center of Excellence for two minimally invasive BPH treatments: UroLift® and Rezūm™
He also has special interest and training in prosthetic urology, which uses medical devices to improve the quality of life of patients for a wide range of urological conditions. These implantable devices can restore sexual function and urinary incontinence to patients with greater than 90% success rates. Additionally, Dr. Sharpe offers several procedures which can enhance the outcome and patient satisfaction of penile implant surgeries.