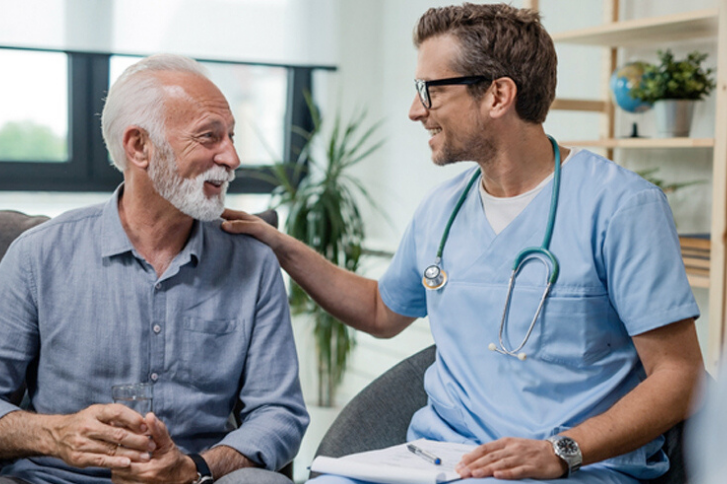 Dr. Gonzalez Uses His Family's Prostate Cancer Experience to Help
Dr. Froylan Gonzalez has a passion for treating cancers of the urinary tract. Although it makes up approximately 85 percent of his practice, the specialty wasn't his first choice.
Why the switch? It's personal.
Gonzalez walked into Ohio State University College of Medicine with a game plan. The former college football player with a love for medicine wanted to be an orthopedic surgeon. The idea of melding these two worlds fit nicely like a snug pair of shoulder pads. That was until he found orthopedic surgery rotations not as fulfilling as he once imagined.
In the midst of his fourth year of med school, Gonzalez received word his father had been diagnosed with prostate cancer. "All of a sudden, I went into action mode, because I was the only medical person in the family," he recalls. "I was going to come up with a plan for dad to get better."
Gonzalez began studying prostate cancer on his own, devouring medical journals and scouring online articles. He soon learned urology surgeons were the ones tackling prostate cancer. Then he got creative.
"I was in the middle of an orthopedic surgery rotation," he says, "and I snuck out of those rotations and into one of the urology operating rooms."
Gonzalez watched in amazement as the surgeon removed a patient's cancerous bladder and built a new one out of intestine. The process thrilled him. The surgeon, who happened to be the med school's chairman of urology, was less than impressed by the intruder.
On the verge of being kicked out of the operating room, Gonzalez begged to stay and watch. The surgeon obliged, and this sparked Gonzalez's newfound interest in urology.
Impressed by the breadth of urology, he continued crashing urology operating rooms, watching everything from kidney stone surgery to a radical prostatectomy. Gonzalez says he became the school's "urology mascot," reading, watching, and learning all he could. His interest in urological surgery only grew.
In tandem, Gonzalez remained in his father's corner during prostate cancer treatment and the subsequent successful surgery, serving as a sounding board, medical interpreter, and cheerleader.
When time came to apply for his residency, Gonzalez managed to jump from orthopedics to urology. Although he had never completed a single urology rotation, his letters of recommendation served him well, and he made it into the Urologic Surgery Residency Program at the Washington University School of Medicine. While completing his residency, he was the Abrams Award recipient for Highest In-service Exam Score 2006. He then served as clinical instructor of the Division of Urology at Washington University from 2006 to 2008 with a clinical specialty in laparoscopic surgery.
Today his father is cancer free, and Dr. Gonzalez performs urology cancer surgeries among other specialties. As he advises and treats patients, Dr. Gonzalez draws from the experience of helping his dad navigate the disease, resulting in a sensitive, relatable perspective.
"A lot times it's easier for us doctors to make decisions for our patients, because we're not the ones facing the consequences," Dr. Gonzalez says. "When I suggest prostate cancer treatment for my patients, I stay in line by asking myself 'If this was my dad or myself, would I be making this same decision?' That helps keep things more palpable, more real."
https://www.gaurology.com/wp-content/uploads/FINAL_-GU-blog-size-32-1.png
484
727
Lizzi Skipper
https://www.gaurology.com/wp-content/uploads/georgia-urology-logo.png
Lizzi Skipper
2019-09-19 14:49:24
2020-04-08 15:56:24
Dr. Gonzalez Uses His Family's Prostate Cancer Experience to Help