Rich Gaffoglio was facing surgery to remove a malignant tumor on his prostate gland. When he discussed the options with his urologist, Dr. Vahan Kassabian of Georgia Urology, he was informed about a revolutionary new procedure that might be an option.
Known as HIFU (high-intensity focused ultrasound) and approved by the U.S. Food and Drug Administration in the fall of 2015, it is a minimally invasive procedure that eradicates prostate cancer through the precision focusing of sound waves to a targeted spot, as opposed to the entire gland. While not every prostate cancer patient is a candidate for HIFU, Gaffoglio proved to be one and he elected to undergo the procedure.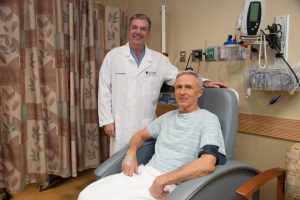 Six days after undergoing the procedure, the 69-year-old played 18 holes of golf.
"My outcome has been very successful," said Gaffoglio, who underwent the procedure just a few months after HIFU received FDA approval. "I have as much control of my urinary functions as an almost-70-year-old is going to have and as far as sexual response I have as much as a 70-year-old is going to have. I have not suffered from either of those side effects that often accompany radical prostatectomies."
Gaffoglio was placed under general anesthesia during the procedure. He said his pain medication consisted of a couple of ibuprofen for a few days after the procedure and that was it.
"Basically, there's no penetration, no needles, no scalpel," said Gaffoglio, a Cartersville resident. "It burned the tumor. I had a follow-up MRI. There was absolutely no indication of any cancer in the gland. Where it was was just a black hole."
The way the HIFU machine works is that doctors take a three-dimensional MRI of the patient's lesion and that image provides a map for the HIFU machine. The patient has a probe inserted into his rectum and the physician then guides the probe towards the prostate.
Once the probe is within three millimeters (a little less than an eighth of an inch) of the cancerous cells, the radio waves are activated, creating the heat that burns away the malignancy.
Immediately after the procedure, Gaffoglio said he had some blood in his urine and passed some small clots (because the urethra goes through the prostate). He had a catheter inserted for less than a week after the procedure.
As part of his recovery, Gaffoglio was told there were three things he could not do:
• He could not have a rectal exam
• He could not ride a motorcycle or a bicycle
• He could not do exercises like lunges for six weeks.
He also was told to limit his consumption of caffeine and alcohol for two weeks. Two weeks after his procedure, he celebrated with a big glass of red wine. His use of ibuprofen, as instructed by physicians, was more to control inflammation than it was to reduce pain.
In the year following the procedure, Gaffoglio has gone for tests about every six months. They have shown that he is cancer-free.
He was so satisfied with his procedure that he has become an ambassador for the program.
"There really is no pain," he said. "If you're a candidate, you don't want to go the other way."