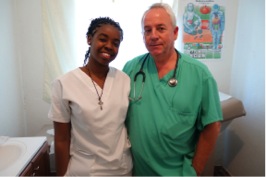 Georgia Urology Donates Ultrasound Machines to Medical Mission Trip
Randy Moore of Lawrenceville had a problem. In April, just a month before embarking on a medical mission trip to Haiti, he needed a pair of ultrasound machines to send abroad.
Moore, a home infusion nurse who's taken more than 100 mission trips to Haiti, knows the great need for the equipment in that country. According to the CIA World Factbook, Haiti has the highest infant mortality rate in the Western Hemisphere. In 2017, there were nearly 47 infant deaths for every 1,000 live births in Haiti.
"Haiti has such profound poverty, you can't imagine it unless you've see it," said Moore. "Well over 50 percent of the people in that country wake up each day not knowing if they're going to have anything to eat. That contributes to infant mortality, too."
Moore reached out to longtime friend Jason Shelnutt, CEO of Georgia Urology, asking if the practice had any extra ultrasound machines. Moore was in luck.
"Jason sent me a text saying that he found two machines in the Georgia Urology warehouse that we were welcome to have," Moore recalled.
Working directly with the Sarepta International Foundation, a Haitian non-profit, Moore helps improve resources and train staff at the 42-bed Cap Haitien Hospital in Cap Haitien and Clinic Saint Bertin in the remote village of Tibouk. He knew having ultrasounds at these locations would be a game changer.
"Anything we can do to identify a complication prior to delivery is huge," said Moore. "These ultrasounds will allow that."
Moore made his first trip to Haiti in 2009 when he joined a group of friends as part of a medical mission team. He said he instantly fell in love with the country and began making repeat trips.
He typically escorts surgical and medical teams, and trains Haitian hospital staff and clinicians how to perform tasks in order to become self sufficient. "My mantra has always been I want to help Haitians help Haitians," Moore explained. "The goal is for these hospitals and clinics to become completely independent."
After the installation and implementation of the Georgia Urology ultrasound machines in Haiti, Moore will be one step closer to his goal. In the future, he hopes to organize a medical mission team made up of Georgia Urology physicians to help train Haitian doctors.
"Mother Theresa once said, 'Sometimes our efforts feel like a drop in the ocean, but what would that ocean be like without the drop?,'" Moore explained. "Sometimes you feel like that working with Haiti. There's every problem you could imagine, whether it's corruption, poverty or poor education. But thanks to Georgia Urology, these two ultrasounds will make a big difference in a lot of people's lives."
https://www.gaurology.com/wp-content/uploads/RMoore2-1.jpg
177
266
Georgia Urology
https://www.gaurology.com/wp-content/uploads/georgia-urology-logo.png
Georgia Urology
2018-08-24 13:28:06
2020-04-07 10:18:01
Georgia Urology Donates Ultrasound Machines to Medical Mission Trip