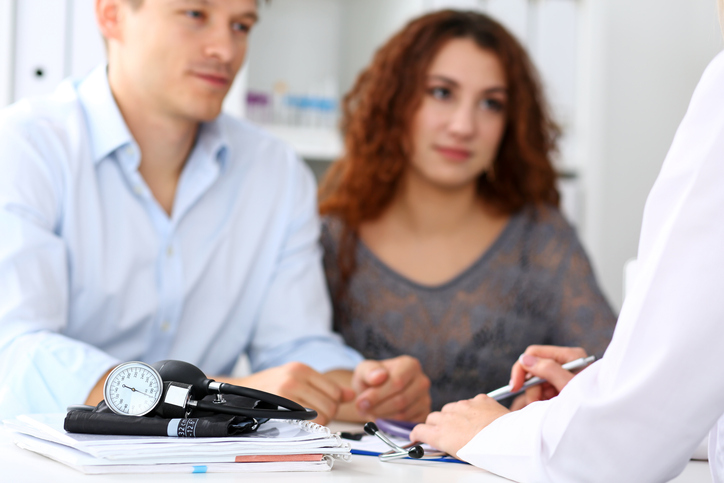 By Dr. Lawrence Goldstone, M.D., F.A.C.S.
Infertility is defined as a couples inability to conceive after one year of appropriately timed and unprotected intercourse. It can affect 15% of couples. Typically thought to be a woman's problem, infertility in males is actually the primary factor in 20-30% of cases, and is a contributor as a combined couples problem an additional 20-30% of the time.
The evaluation of infertility in males is a relatively simple and straightforward process. It begins with a thorough history, focusing on sexual history, the timing of intercourse, and the use of lubricants. A past history of prior surgeries in the pelvis or reproductive tract will be noted, as well as a history of pain, swelling, or infections in that area.
Medicines and lifestyle choices will be carefully reviewed. Smoking (both tobacco and marijuana) and alcohol can affect sperm health. Testosterone supplements and anabolic steroid usage are an increasingly common cause of male factor infertility. Stress, obesity, and even prolonged heat exposure to the genital area may adversely affect sperm quality.
A physical exam with attention to testicular size and quality will be performed. The presence or absence of the vas deferens(the tube that carries sperm from the testicle) can easily be addressed. Your physician will also check for vein swellings in the scrotum called varicoceles that can impact sperm counts and function.
A semen analysis will be arranged if not already performed. This gives valuable information about semen volume, sperm quantity, and quality. Laboratory testing can provide important clues to hormonal imbalances and chromosomal abnormalities that may affect reproductive health. Ultrasound examinations of the genital tract may occasionally be arranged. In summary, the evaluation is relatively quick and simple and can often be accomplished after only one or two office visits.
Treatment of infertility in males will, of course, depend on the underlying factors. It may be as simple as lifestyle modifications and timing and frequency of intercourse. Medications may be used, particularly for hormonal imbalances. Minor surgeries to correct varicoceles can often be helpful. There are even procedures to retrieve sperm from men who were previously thought to be completely sterile and without hope.
In summary, male factor infertility is a common problem and the physicians at Georgia Urology are well-focused on its improvement. Click here to schedule an appointment with us today if you want to discuss further.
https://www.gaurology.com/wp-content/uploads/iStock-984018778-1.jpg
483
724
Georgia Urology
https://www.gaurology.com/wp-content/uploads/georgia-urology-logo.png
Georgia Urology
2019-04-19 10:29:33
2020-12-04 18:02:04
Infertility in Males — It's Not Just the Woman