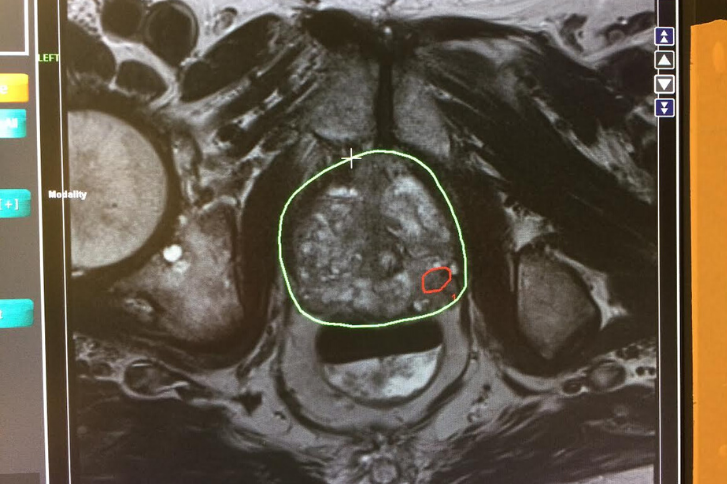 MRI Guided Fusion Prostate Biopsy: A New Tool Against Prostate Cancer
Many advances have been made in the last decade in the diagnosis and treatment of prostate cancer. A great example is a prostate MRI guided biopsy or the fusion Bx. It represents a quantum leap forward when indicated. This allows for more accurate identification of those with elevated PSAs necessitating prostate biopsies, as well as more precise biopsies to better assess the extent of disease to guide further therapy.
While standard ultrasound (TRUS) based biopsy continues to be appropriate in many men, some require a different approach. This includes men in whom cancer is suspected despite a prior normal biopsy, as well as men with rather enlarged prostates which render detection quite difficult.
At Georgia Urology, with assistance from Northside Hospital and its outstanding Radiology Dept, we utilize the Eigen Artemis ProFuse Bx.
Who Would Receive One?
We've provided an example of such a case! Here are the qualities of our index patient:
A man with a PSA of 5.6 who underwent a negative TRUS/12 core Bx in 2016.
His PSA is now 6.5 & a secondary biomarker test (SelectMDx in this case) returned at moderate risk for cancer detection.
In this instance, the MRI confirmed the presence of a 1 cm suspicious lesion on the left side of the gland. Here are the photos:
How Does an MRI Guided Fusion Prostate Biopsy Work?
The procedure is well tolerated. It's performed under a light general anesthesia since movement will degrade the accuracy of targeting.
As in the majority of cases performed, the cancer detection rate is quite high, ranging from 50% to near 100% depending on the grade of the lesion based on the MRI criteria. Our index patient was found to have Gleason 4 prostate cancer in the index lesion and 2 adjacent locations thanks to the MRI Guided Fusion Prostate Biopsy.
Contact the expert urologists at Georgia Urology to learn more about this form of diagnosis and treatment for prostate cancer, plus more.
https://www.gaurology.com/wp-content/uploads/FINAL_-GU-blog-size-15.png
484
727
Georgia Urology
https://www.gaurology.com/wp-content/uploads/georgia-urology-logo.png
Georgia Urology
2018-10-01 17:02:26
2020-04-07 10:37:55
MRI Guided Fusion Prostate Biopsy: A New Tool Against Prostate Cancer