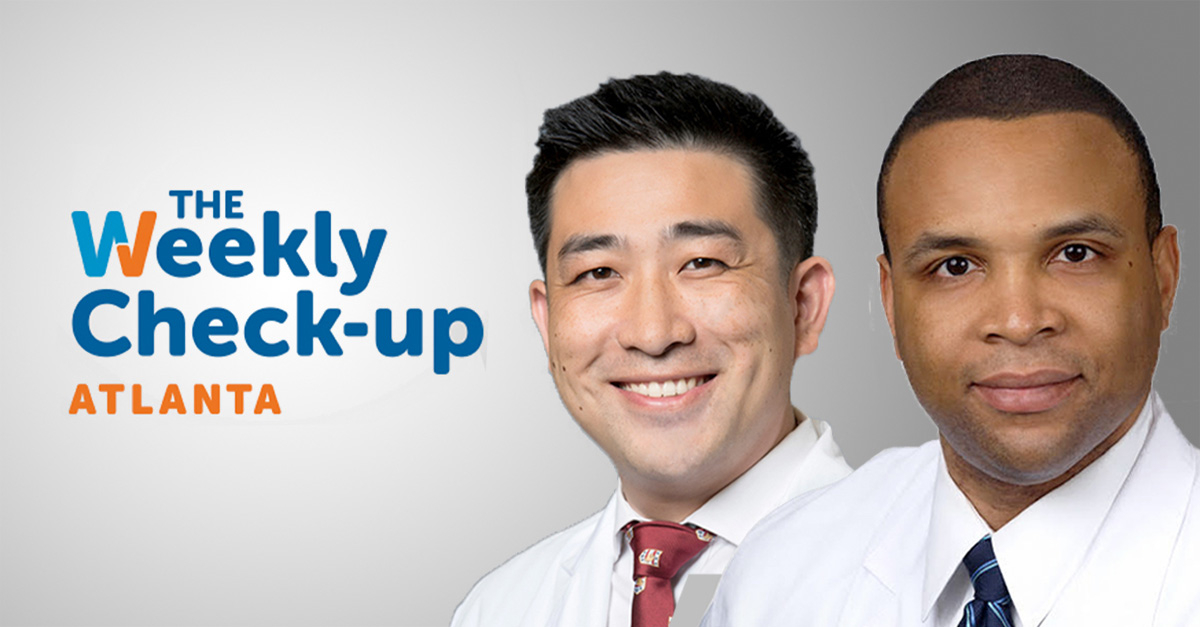 Dr. Ronald Anglade and Dr. Joseph Song Appeared on "The Weekly Check-Up" on WSB Radio
On Sunday, July 19, 2020, Georgia Urology's Dr. Ronald Anglade appeared as a guest on "The Weekly Check-Up" on News/Talk WSB Radio.
He was joined by Georgia Urology's Dr. Joseph Song.
Dr. Anglade, Dr. Song, and host, Dr. Bruce Feinberg, discussed several testicular diseases and took questions from callers on the male testes.
Dr. Anglade is a native of New York. He received his undergraduate degree from Brown University, Providence, RI. He then returned to New York and received his medical degree from the State University of New York Health Science Center at Brooklyn (Downstate Medical Center). He completed his residency in surgery and urology at the Boston University School of Medicine. His research interests include genetic causes of male infertility and penile implants, and a treatment option for erectile dysfunction.
At Georgia Urology, Dr. Anglade sees patients at the Duluth, Lawrenceville, and Snellville locations. He is also a member of the American Urological Association, The Society for the Study of Male Reproduction, the American Society for Reproductive Medicine, and the Society for Male Reproduction and Urology.
Joining Dr. Anglade for his second appearance on "The Weekly Check-Up" was Dr. Joseph Song, who graduated summa cum laude with a degree in biology from Emory University. He completed both medical school and his residency at Washington University in St. Louis, Missouri. In addition to receiving numerous awards and recognition, he has published 18 articles and book chapters, as well as presented 12 abstracts and podiums. Dr. Song's research interests include prostate cancer, kidney cancer, urethral strictures, and pelvic pain.
At Georgia Urology, Dr. Song sees patients at the Johns Creek, Duluth, and Lawrenceville locations.
During the show, Dr. Anglade, Dr. Song, and host, Dr. Bruce Feinberg, discussed the many testicular diseases that can take place during a man's life–from birth to death. Although the topic is not often discussed, these three healthcare professionals took the time to highlight the importance of these conditions such as undescended testicles, testicular trauma, testicular torsion, infertility, and prostate cancer, as well as answered several questions from incoming callers on these topics.
Is it dangerous to have a cyst on the testicle? How do parents know if their child should require an evaluation following testicular trauma? What if my testicles are two different sizes? These are only a few of the questions that were answered during the show.
One of the key takeaways, whether you are experiencing any signs of testicular dysfunction or not, is the importance of regular clinical evaluations from a physician and also, and possibly most importantly, is a routine self-examination of your testicles a couple of times a month. This can often catch early signs of testicular disease.
Another rule of thumb, as outlined on the show, is if any pain of your testicle does not resolve within 30 minutes, please receive a clinical evaluation from a urologist. These could be signs of testicular dysfunction.
Testicular function is an extremely important topic for men's health as so many areas of disease are related.
Do you have questions about yourself or your child surrounding their testicles? Did you miss Dr. Anglade and Dr. Song on 'The Weekly Check-Up" on Sunday, July 19? You can listen to the full show here.
If you have any more questions and/or would like to schedule an appointment (pediatrics and adult), contact the trusted urologists at Georgia Urology. 
https://www.gaurology.com/wp-content/uploads/wcu-song-anglade.jpg
627
1200
Annice Wyatt
https://www.gaurology.com/wp-content/uploads/georgia-urology-logo.png
Annice Wyatt
2020-07-15 17:47:51
2022-11-22 13:47:11
Dr. Ronald Anglade and Dr. Joseph Song Appeared on "The Weekly Check-Up" on WSB Radio