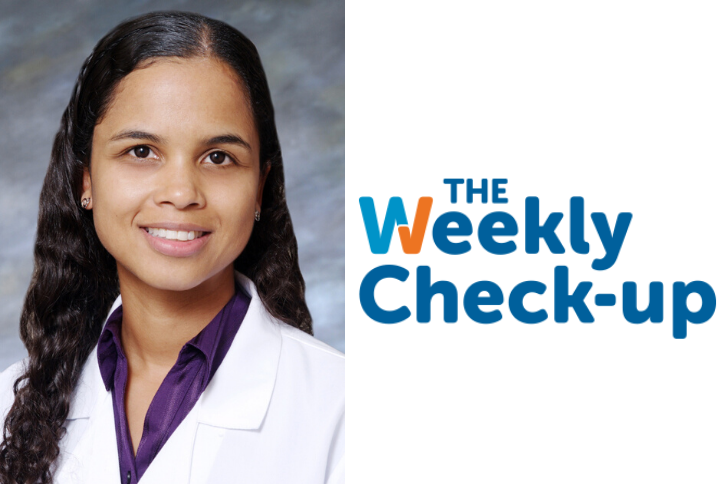 Georgia Urology's Dr. Msezane Featured on "The Weekly Check-Up"
On Sunday, April 19th, Georgia Urology's Dr. Lambda Msezane was featured on "The Weekly Check-Up" on News/Talk WSB Radio. Dr. Msezane and her husband, Dr. Joshua Lovelock with the CardioVascular Group, spoke with the host, Dr. Bruce Feinberg, on how the coronavirus (COVID-19) has impacted them personally, their individual practices, approach to patient care, and patients.
Dr. Msezane practices at the Georgia Urology office in Decatur and specializes in women's health, urological cancers, and robotic surgery.
Dr. Joshua Lovelock practices with CardioVascular Group at their Lawrenceville, Snellville, and Gainesville locations. His interests include treating patients with irregular heart rhythms including atrial fibrillation, palpitations, and/or fainting spells.
During the midst of the COVID-19 pandemic, the healthcare industry remains busy. In order to care for patients in a safe and effective way, practices such as Georgia Urology and CardioVascular Group, have had to adjust and dedicate a majority of their practice to using telemedicine.
Although these two doctors admitted to spending a lot more time with virtual appointments in just a matter of four weeks, they urge patients not to fear consultation or possible in-person visits with their doctors and to continue to prioritize their health and well-being. During the show, Dr. Msezane discussed Georgia Urology's extensive efforts in creating an algorithm for pediatric urology that outlines the extremity of conditions and whether a patient can be seen through telemedicine or should be seen in-person. This algorithm on "grid" can be found on Georgia Urology's website or by visiting the link here.
Additionally, Dr. Msezane and Dr. Lovelock discussed the positive impacts telemedicine has made on improving communications between patients and providers. For both of their practices, Dr. Msezane and Dr. Lovelock have found that providers are able to spend more quality time with their patients. As telemedicine as seen such a huge success during the coronavirus pandemic, Dr. Msezane explained that patients have expressed a great interest in continuing telemedicine post-coronavirus.
On the show, Dr. Msezane and Dr. Lovelock not only spoke of COVID-19 from the perspective of healthcare professionals but also as respective parents and how they have had to balance working in the office and working remotely with their children. Through telemedicine appointments with patients or virtual meetings with colleagues, there is a communal sense of understanding because this pandemic is such a shared experience. "The Weekly Check-Up" host, Dr. Bruce Feinberg, mentioned that as healthcare professionals, this actually humanizes the doctors than if they were in an office environment.
Although many health conditions can be discussed or even treated using telemedicine, Dr. Msezane and Dr. Lovelock noted the importance of patients understanding that healthcare is not closed during this pandemic and that existing or arising health-related issues should not be left untreated. For urological conditions such as blood in urine, obstructive kidney stones, and cancer, patients should be seen immediately. For cardiac-related conditions such as chest pains, shortness of breath or passing out, patients should also seek immediate care.
Lastly, Dr. Msezane and Dr. Lovelock spoke on the healthcare system once restrictions of social distancing have loosened and the economy begins re-opening, but ensured that both their practices have created a strong foundation of patient care by utilizing telemedicine and are well-equipped for the future.
Did you miss the show and want to hear more from these healthcare professionals? Click the link here.
For more information on Georgia Urology's telemedicine program or to schedule a telemedicine appointment, click here.
https://www.gaurology.com/wp-content/uploads/FINAL_-GU-blog-size-8.png
484
727
Lizzi Skipper
https://www.gaurology.com/wp-content/uploads/georgia-urology-logo.png
Lizzi Skipper
2020-04-14 10:18:40
2020-04-22 09:40:58
Georgia Urology's Dr. Msezane Featured on "The Weekly Check-Up"