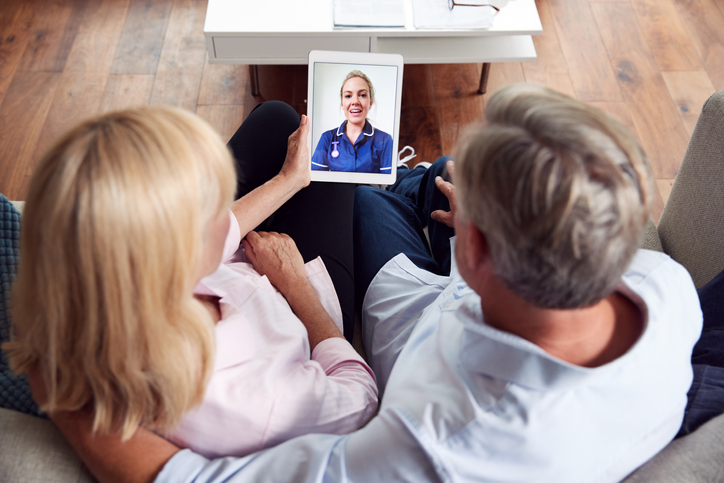 Telemedicine in Urology: Management During the COVID-19 Crisis and Beyond
By Andrew Kirsch, M.D., F.A.A.P., F.A.C.S., Rob Boschen, and Hal Scherz, M.D., F.A.A.P., F.A.C.S.
It was early in March 2020 that it became clear that major changes were needed in surgical and medical triage in the nation's hospitals and clinics due to the coronavirus pandemic. Personal protective equipment (PPE) and ventilators, essential for the care of those afflicted with the COVID-19 virus were in short supply and threatened the health of Americans and healthcare providers. The operating rooms and clinics were about to shut down.
By mid-March 2020, Americans were being asked to socially distance and to self-quarantine. Lifestyle changes brought on by the crisis were occurring hourly. By the end of March, many in the community were confined to their homes with little exposure to the outside world, except through social media. The healthcare community, however, had to find a way to keep going.
Like many business and healthcare organizations, the leadership at Georgia Urology formed a COVID-19 taskforce to address these challenges and to transform our practice to enable us to meet the needs of our patients as safely as possible, while at the same time taking into account the safety of our staff and doctors.
What would happen next would change the practice of American healthcare forever. 
Telehealth was being touted in the media as a solution to allow continuity of care for patients with their doctors. Very few physicians had experience with this form of healthcare delivery. It required a fundamental reorientation in how healthcare is delivered. Information technology became more important than ever in healthcare delivery.
At Georgia Urology, telemedicine had been used sporadically since 2018. The current medical crisis changed that. We were able to ramp up this platform and currently, it has become the dominant modality to care for our patients.
Doctors in rural communities have been at the forefront of telemedicine. Not any longer. The graph below, courtesy of our telehealth vendor, ExamMed, illustrates the rapid increase in the use of telemedicine in Atlanta in just two weeks, corresponding to the closure of medical offices and clinics.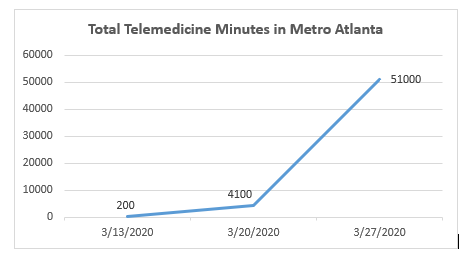 The graph below, obtained from Georgia Urology clinics, shows how our practice rapidly adopted telemedicine at a time when total patient visits dropped precipitously, as referrals from primary care physicians decreased, and as our offices began to close.
Georgia Urology began marketing our telemedicine program to our referring doctors, ICUs, hospitals, and ERs across the state, reassuring them that "our doors were still open." We provided instructions to parents and patients with "tip sheets" on how to prepare for a telemedicine visit. For the past several weeks, we have conducted telemedicine in a "patient-less" office, with a skeleton staff, adhering to social distancing. However, this week, we will see patients in their homes from our homes.
Georgia Urology's Patient-Focused Telemedicine Guidelines Shared Publicly During Time of Crisis
Telemedicine guidelines were first created by our pediatric urology physicians at Georgia Urology.  The guidelines were presented to and approved by nationally recognized leaders in pediatric urology. Subsequently, a very successful webinar entitled, "American Academy of Pediatrics, Section on Urology Telemedicine Guidelines: An Urgent Call" was quickly put together, reaching over half of all practicing pediatric urologists in the United States.
A patient-centered approach will ultimately be needed to preserve the current telehealth changes – A Promise for the future of healthcare
Now that we have succeeded in putting telemedicine into practice and the promise of using this platform has been demonstrated, it may be very difficult to go back to the way things were previously. We must ask why we would ask a family to travel to the office or hospital- often long distances and in challenging traffic, miss work or school, pay for parking, and wait in the waiting room, to finally have a relatively short face-to-face visit with their healthcare provider. The actual time with the doctor is a mere fraction of the family's effort to get to us.
Although physicians and patients alike view telemedicine favorably, we are aware that the conditions that allowed us to rapidly expand telemedicine services may fade away. The relaxation of government and insurance company red tape and bureaucracy has permitted us to expand telehealth. The fear is that after the coronavirus threat is over, there will be an attempt to go back to the same restrictions that existed previously, which made telemedicine difficult to provide. It is our hope that the benefits to patients and to the healthcare system will be clear, that red tape and regulations will not hinder the expansion of telehealth and that doctors are given the ability to continue to do what they do best for patients – to innovate and to take care of them.
https://www.gaurology.com/wp-content/uploads/iStock-1186913684.jpg
483
724
Lizzi Skipper
https://www.gaurology.com/wp-content/uploads/georgia-urology-logo.png
Lizzi Skipper
2020-04-06 10:13:31
2020-04-22 23:03:40
Telemedicine in Urology: Management During the COVID-19 Crisis and Beyond