Combined rating across 10+ review sites! Read what patients are saying on:
Reputation Summary
Lewis S. Kriteman, M.D., F.A.C.S.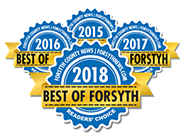 Dr. Kriteman grew up outside of Boston, Massachusetts and attended Yale University graduating with a major in English Literature. He then worked on Wall Street as an investment banker for PaineWebber in their Healthcare and Biotechnology department before heading to medical school. He graduated as a member of the Alpha Omega Alpha Honors Society from Albert Einstein College of Medicine in New York City. He moved to Atlanta to complete his general surgery and urology residencies at Emory University.
Dr. Kriteman practices general urology with a particular interest in male and female voiding dysfunction, and treatment of enlarged prostate (BPH) utilizing minimally invasive procedures such as Urolift and Rezūm. He is also a Center of Excellence (COE) for the UroLift procedure and an instructor of this for other urologists.
He specializes in all procedures of the prostate including Greenlight laser photoselective vaporization of the prostate (PVP) and the newest procedure called Aquablation. He was the first urologist in Georgia to perform this newest procedure and acts as an instructor for this as well. He has specialized in Greenlight laser of the prostate since 2001 and has traveled extensively around the country and the world lecturing and teaching this procedure. He has presented numerous papers at both national and international meetings and is a member of the American Urological Association and a Fellow of the American College of Surgeons.
Dr. Kriteman lives in Alpharetta with his wife and English Retriever, Weller. He is a self-described sports fanatic, enjoys traveling, reading, and working out.
Dr. Kriteman has conducted numerous national webinars on the Aquablation and Greenlight procedures for enlarged prostate/benign prostatic hyperplasia (BPH), reviewing several of his prior cases and results. Most notably, Dr. Kriteman recently hosted a free community health talk on Axonics Therapy — a clinically proven, advanced treatment option to reduce symptoms of overactive bladder, bowel incontinence, and urinary retention.
In addition, Dr. Kriteman is among only a select number of physicians in the country to receive the GreenLight Center of Excellence designation. He is the first in the Southeast and the first in Georgia to achieve this designation which recognizes a high degree of experience with GreenLight Laser Therapy and commitment to delivering effective, long-lasting therapy to men suffering from benign prostate hyperplasia (BPH).
Expert in:
Conditions I Treat: