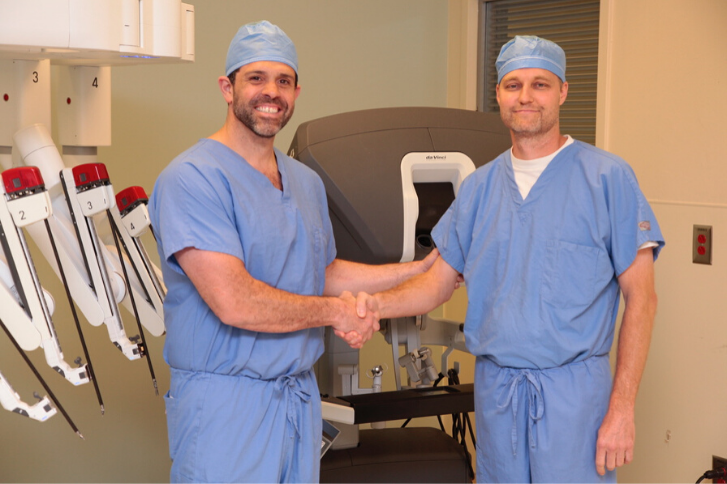 Georgia Urology Brings Robotic Surgical Procedures to Braselton
Drs. Brent Sharpe and Froylan Gonzalez perform cancer surgeries for first time in area
Georgia Urology, the largest urology practice in the Southeast, is known for providing innovative procedures to metro Atlanta. Drs. Brent Sharpe and Froylan Gonzalez recently widened that scope by debuting two new minimally-invasive robotic procedures at Northeast Georgia Medical Center in Braselton.
On June 27, the physicians combined their expertise to perform a nephrectomy and an adrenalectomy on one patient, and a prostatectomy on another. This marked the first time bilateral cancer operations were performed through the same minimally-invasive, robotic incisions. The second case was a simple robotic prostatectomy for an enlarged prostate, which traditionally is done through a large open incision.
Dr. Sharpe used the XI DaVinci System, the latest in advanced robotic surgical equipment, to perform the surgeries. During each procedure, the surgeon operates joystick-like controllers. The surgeon's movements are transferred in real-time to the robotic device, which is positioned over the patient and has the actual surgical instruments attached.
"We use the robotic system to do minimally-invasive surgery with what have traditionally been maximally-invasive procedures," said Sharpe, who has performed more than 700 robotic surgeries. "By using the robotic system we are able to drastically reduce surgical complications and patient recovery time. In these two patients, recovery time will be reduced six-to-12 weeks."
The nephrectomy and adrenalectomy procedures are unique in and of themselves, and serve as a tangible example of Georgia Urology being on the forefront of technology. The doctors expect this robot-assisted surgery to have been curative. They first removed the cancerous right kidney, and then repositioned the patient and robot to remove the left adrenal gland where the cancer had spread. It's unusual for this type of surgery to be performed on opposite sides of the same patient in one sitting. The fact that there is new, cutting-edge robotic equipment at this hospital allows for easier repositioning and cuts down on surgical time.
Georgia Urology physicians offer a volume of these procedures that other health care systems in North Georgia do not. A total of 10 Georgia Urology physicians are highly experienced robotic surgeons. Collectively, these doctors have performed more than 5,000 robotic surgeries.
"I feel privileged to help bring these procedures to the Braselton area and to offer personalized care for patients," said Dr. Sharpe. "Our goal is to meet patients where they are and to offer them and our community hope."
https://www.gaurology.com/wp-content/uploads/FINAL_-GU-blog-size-13.png
484
727
Georgia Urology
https://www.gaurology.com/wp-content/uploads/georgia-urology-logo.png
Georgia Urology
2018-07-19 14:23:47
2020-04-06 17:18:49
Georgia Urology Brings Robotic Surgical Procedures to Braselton