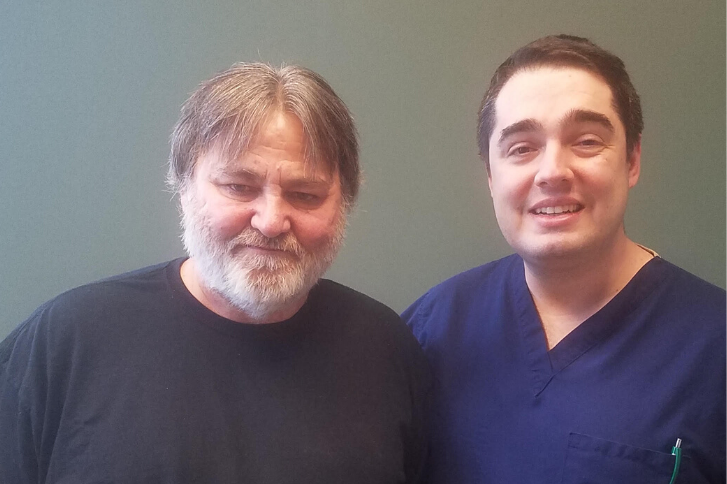 Turning Fear into Success: Patient Now Two Years Cancer Free
In 2016, 58-year-old Eugene Reece hadn't set foot in a doctor's office for eight years. Several negative experiences with physicians earlier in life led him to avoid seeing doctors as much as possible. But when a pain in Eugene's lower back wouldn't go away, it forced an end to his strike. After an initial visit to his primary care physician, Eugene was referred to Dr. Adam Mellis at Georgia Urology for further examination.
Thankfully, Eugene's outlook on visiting the doctor was about to change.
"I've never met a physician with bedside manners like Dr. Mellis," Eugene said. "He took the time to make sure I understood everything, and he made me feel like I wasn't just another patient to him. He truly cared about me and my issues. I immensely appreciated everything he did for me."
When Eugene explained his pain and medical history to Dr. Mellis, he immediately had concerns. Since Eugene was diabetic, Dr. Mellis wanted to get things checked out as soon as possible to avoid any irreversible complications. His rush was well-founded. After X-rays, Dr. Mellis discovered that Eugene had kidney cancer.
"According to the American Cancer Society, approximately 63,340 cases of renal cell carcinoma, more commonly known as kidney cancer, will occur with 14,970 deaths expect in 2018," Dr. Mellis explained. "Kidney cancer affects men more than women in an approximately two to one ratio. For both men and women in the U.S., kidney cancer is in the top 10 in terms of incidence with males at 5th and females at 10th."
While these statistics may seem incredibly grave, it's also important to note that early detection is key to the successful treatment of kidney cancer. Some of the first symptoms include blood in the urine, low back pain on one side, a mass on the side or lower back, fatigue, loss of appetite, weight loss not caused by dieting, fever that won't go away, and low red blood cell counts. In Eugene's case, he decided to get the pain in his lower back checked instead of waiting for it to disappear. Thanks to this decision, Dr. Mellis was able to do something about his cancer.
Dr. Mellis took the time to walk Eugene through all available treatment options, as well as give his expert opinion on which would be best for him. Eugene left the office without a single question and the utmost trust in Dr. Mellis.
It was decided that Eugene would undergo robotic nephrectomy, a procedure in which the tumor or cancer is removed from the organ while the rest of the kidney remains intact. This form of surgery allows for small incisions, which means less trauma, less scarring, less blood loss, and a much faster recovery time than open surgery.
The surgery took a total of 2.5 hours to perform, but Eugene experienced no complications afterward.
"I truly believe that Dr. Mellis saved me," Eugene said. "I usually hate going to the doctor, but now I'll go in just to visit with Dr. Mellis. He really cares about me."
Now cancer-free for two years, Eugene can focus on the activities he loves most: fishing and hunting. As a gesture of gratitude for getting him back to his favorite hobbies, Eugene even crafted Dr. Mellis a set of custom hunting knives.
"It's always wonderful to hear that your patients trust and appreciate you, but it's particularly special to receive and handmade gift," said Dr. Mellis. "I will cherish these pieces throughout my career!"
If you have questions about Dr. Mellis, kidney cancer, or the treatment options offered at Georgia Urology, contact us to learn more or schedule an appointment.
https://www.gaurology.com/wp-content/uploads/FINAL_-GU-blog-size-6.png
484
727
Georgia Urology
https://www.gaurology.com/wp-content/uploads/georgia-urology-logo.png
Georgia Urology
2018-03-12 11:28:11
2023-07-10 10:30:40
Turning Fear into Success: Patient Now Two Years Cancer Free